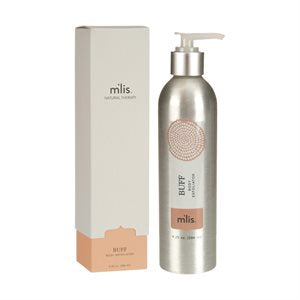 Buff - Body Exfoliator
Regular price $45.00 Sale
BUFF - Body Exfoliator 9.25OZ.

Get down to the nitty gritty and bare it all beautifully with this gentle body exfoliator. Papaya and pineapple enzymes exfoliate and boost circulation to stimulate your skin's metabolism while light notes of sage and geranium soothe and tighten for a prettily-polished finish.
Gently apply exfoliator in circular motions over the body two to three times a week. For ?a ?more ?advanced treatment, apply to dry skin in circular motions, and then brush off beads once product has dried.
An all-natural body exfoliant for softer, more vibrant skin. M'lis BUFF, a stimulating enzymatic scrub, works to rejuvenate skin cells and remove dry, damaged skin. 

HELPS SMOOTH, CLEAR AND REJUVENATE THE SKIN
LEAVES SKIN FEELING FRESH AND ALIVE!
KEY INGREDIENTS

Aloe, Papaya Fruit Extract, Geranium Extract, Sage Leaf Extract, Cell-U-Rid

USE
Apply to the body three times weekly with or without water. May be applied to dry skin before showering, rubbing in circular motion from feet to shoulders, or use on wet skin in the shower for less intensity. For a facial exfoliator use M'lis SCRUB.