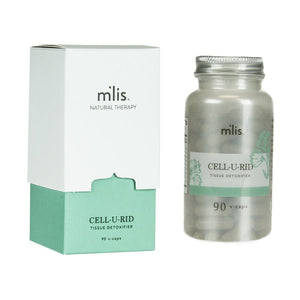 Cell U Rid - tissue detoxifier
Regular price $35.00 Sale

CELL-U-RID
Ramp-up your contour game and take shape with this breakthrough internal blend for optimal cellulite busting power. This herbal fusion contains heritage versions of juniper, corn silk, hydrangea and kelp to cell-u-rid for good.

As a special dietary supplement, take two to three capsules 1/2 hour prior to each meal, three times daily with a full glass of water.
This herbal remedy acts as a natural diuretic that helps eliminate trapped waste and water, and reduces cellulite by encouraging healthy circulation.

POWERFUL NATURAL APPETITE APPEASER
STOPS WATER RETENTION
KEY INGREDIENTS

Juniper Berries: Helps decrease inflammation and combat bacteria and virus growth.

Buchu Leaves: Cleanses the urinary tract, helping to prevent infection.

Corn Silk: Prevents kidney inflammation, and aids with high blood pressure and cholesterol levels.

Hydrangea Root: Relieves urinary tract infection.

Horsetail Herb: Reduce bacteria in the urine, reducing inflammation and irritation in the tissue.

Kelp: Improves thyroid gland health, boosting energy and metabolism levels. Good source of vital nutrients. Known for its anti-inflammatory and natural diuretic properties.