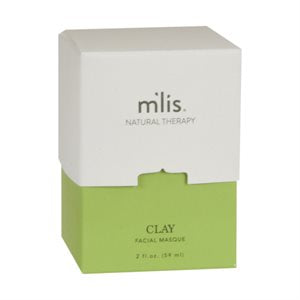 Clay - Facial Mask
Regular price $0.00 $55.00 Sale
Clay - Facial CLAY - 2OZ.

Give your skin a fresh breath of beauty! Velvety soft Montreuil Green Clay, debris-lifting bentonite, and soothing tissue respiratory factors evict impurities and rebalance the complexion. So take 10 and let this transformative masque detoxify your skin for truly clarified results. This masque actively absorbs excess oils, refines texture, and fights against acne and blackheads. Clay works as a poultice to the skin, which helps digest dead cells and imbedded impurities. 
DIMINISHES BLEMISHES AND BLACKHEADS
REMOVES EMBEDDED IMPURITIES
Clay – Facial Masque
PURIFIES AND REFINES SKIN TEXTURE
KEY INGREDIENTS

Tissue Respiratory Factors: Increase wound healing and reduces inflammation for resolving acneic conditions.

Montreuil Green Clay: Fights blemishes while deep cleaning individual pores.

Bentonite: Draws impurities out of the skin.

Papain: Gives the skin a light exfoliation by loosening the bonds that hold the keratin together.

Tissue Repertory Factor: Unlike other clay masks, TRF moisturizes the skin while letting the clay draw out impurities, excess oil, and blemishes.