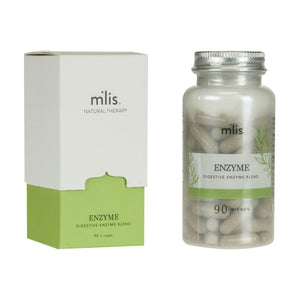 Enzyme
Regular price $35.00 Sale
Enzyme - Digestive Enzyme Blend
Feeling sluggish, bloated, gassy, or over-full after eating? Enzyme works immediately to assist digestion, alleviate gastrointestinal discomfort, and restore energy to the body to improve overall health every day.
HELPS THE BODY BREAK DOWN PROTEINS AND CARBOHYDRATES FASTER
BOOSTS NATURAL ENERGY LEVELS
Protease– Digests proteins, including meats and beans. Promotes acid balance in the stomach.
Amylase– Digests carbohydrates, starches. and sugars.
Lipase– Digests fats and oils. Promotes cardiovascular health and assists in weight control.
Cellulase– Digests fiber. Maximizes absorption of antioxidants.
 Pancreatin– Aids in digestion and helps rest the pancreas.
Also Contains: Omega Fatty Acids, Dandelion Root, Fennel Seed, Ginger Root, Peppermint Leaf, Garlic, Bilberry Herb.
90 count (V-caps)
1-2 daily