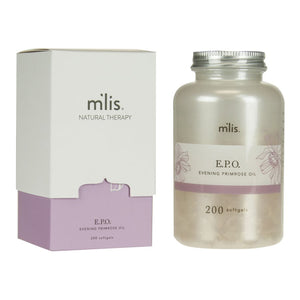 EPO- Evening Primrose Oil
Regular price $45.00 Sale
EPO - Evening Primrose Oil
Relieving premenstrual pain and hangovers, improving skin conditions, and lowering weight are only a few of the countless benefits of EPO. This Omega 6 fatty acid is a rich source of gamma linolenic acid that will allow the body to better function and properly fight disease.
PROMOTES HEALTHY WEIGHT LOSS
IMPROVES SKIN CONDITIONS FROM THE INSIDE OUT
STRENGTHENS THE IMMUNE SYSTEM
Evening Primrose Oil– A natural oil known to alleviate discomforts from many health conditions including PMS, eczema, breast pain, and rheumatoid arthritis. Derived from the natural, heritage version flower.
Linoleic Acid– Lowers cholesterol and triglycerides, reduces food-induced allergic reactions, and enhances immune system.
Gamma Linolenic Acid (GLA) – May help heart disease, lupus, osteoarthritis, rheumatoid arthritis, diabetes, eczema, fingernail problems, endometriosis, menstrual cramps, premenstrual syndrome, and sunburn.
150 count (softgels) (500 mg)
3-6 softgels daily