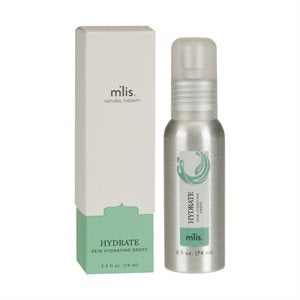 Hydrate - Hydrating Drops
Regular price $45.00 Sale
HYDRATE - 2OZ.
Is your complexion looking parched? Don't fret! Used under your favorite moisturizer, this barely there hyaluronic acid serum drenches your skin a wave of hydrating benefits - for fine lines and wrinkles that just wash away. Hyaluronic acid allow crepeness and the visibility of fine lines and wrinkles to be reduced dramatically.
This ultra skin-nourishing and hydrating product absorbs and retains up to 1000x's its weight in water, resulting in an overall healthier more youthful glow
CAN BIND 1000X'S ITS WEIGHT IN WATER

REDUCES THE APPEARANCE OF FINE LINES AND WRINKLES

HELPS TO RESTORE YOUTHFUL APPEARANCE OF SKIN
KEY INGREDIENTS
Hyaluronic Acid – Naturally found in the reticular layer of the dermis between the collagen and elastin fibers.

Aloe Vera and Chamomile – Soothes the skin. Acts as an anti-inflammatory.