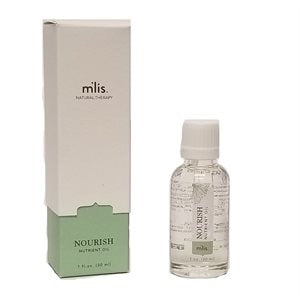 Nourish - Nutrient Oil
Regular price $0.00 $35.00 Sale
Nourish - Nutrient Oil
Smoothes wrinkles, stimulates blood flow to the cells, protects against dehydration, all without feeling greasy or clogging pores. Use nightly on dry or damaged skin, as well as the delicate skin around the eyes for soft, supple, and hydrated skin. Nourish is a great way to replenish natural oils in the skin
RELIEVES DRY AND CRACKED SKIN
INCREASES COLLAGEN PRODUCTION TO STRENGTHEN SAGGING AND AGED SKIN
Nourish – Nutrient Oil
90 CONTAINS 16 VITAMINS, 16 MINERALS, 18 ENZYMES, 18 PROTEINS, AND ALL 22 AMINO ACIDS.
KEY INGREDIENTS

Avocado Oil – Works to mobilize and increase collagen in connective tissue, in addition to fighting bacteria.

Wheat Germ Oil – Helps promote collagen and elastin.

Apricot Kernel Oil – Helps retain elasticity and suppleness in skin.

Bee Pollen Extract – Injects new life into cells while providing 16 vitamins, 16 minerals, 18 enzymes, 18 proteins, and all 22 amino acids.

SIZES AVAILABLE

2 oz.