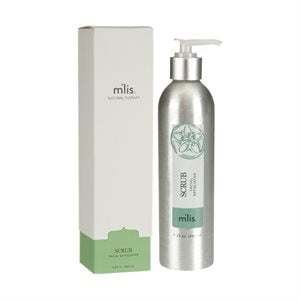 Scrub - Facial Exfoliator
Regular price $35.00 Sale
SCRUB - Facial Exfoliator  9.25OZ

Enliven skin and awaken the senses with this ahhh-mazingly energizing menthol facial scrub. Rounded granules are suspended in a rich, creamy lotion of chamomile and ginseng, to gently buff away any roughness in your way.
A mild menthol exfoliant that gently buffs away dead skin cells and impurities, leaving a smoother softer more supple complexion. 
STIMULATES METABOLISM & REGENERATION OF HEALTHY SKIN
REFINES, SOFTENS, AND SMOOTHES ALL SKIN TYPES
Scrub – Facial Exfoliator
GENTLY REMOVES UNHEALTHY SKIN
KEY INGREDIENTS

Gingseng Extract – Helps in oxygenation of the skin, aids in elasticity, diminishes wrinkles, revitalizes and reactivates epidermal cells due to a high vitamin content.

Chamomile Extract – Constricts capillary walls and fights inflammation while providing antiseptic properties.

Plant Derived Menthol – Is a natural antiseptic which cools the skin while stimulating blood circulation.